2021 SUMMER SCHOOL - DRIVER EDUCATION
Anyone interested in taking Driver Education class at CCHS this summer from June 14th - July 22 you must sign up by Wednesday, June 9th. To be eligible, you must be 16 years of age prior to June 14, 2021. Only 10 total spots are available. To sign up you may stop by the office or call CCHS at (304) 587-4226 or Dr. Michelle Samples at (304) 587-4694.
May 27th

Graduation (6:00 p.m., Bradley Field)

May 31st

Memorial Day recognized - NO SCHOOL

August 17

Teachers Return to Classrooms

August 23rd

Students return to CCHS - 1st Day of School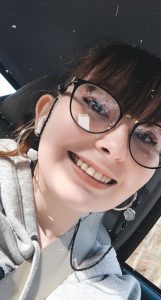 Brooklyn Brown
The Clay County High School virtual student of the month for May is Brooklyn Brown.  Brooklyn is the 16-year-old daughter of Paul and Carol Brown.  She is currently a sophomore at Clay High. In her free time, Brooklyn likes to draw and ride her bike.  Brooklyn's favorite subject in school is entrepreneurship because it lets her understand what she needs to prepare for her future business.  After high school, she plans to become a cosmetologist.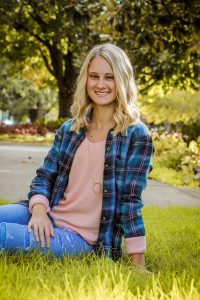 Erin Mullins
The Clay County High School in-person student of the month this month is Erin Mullins.  Erin is the 18-year-old daughter of Jeff and Cindy Mullins.  She is currently a senior at Clay High.  Her favorite subject in school is English because she has always enjoyed reading.  In her free time, Erin enjoys being with friends and family, reading, going to concerts, and cheerleading. After high school, Erin plans to attend West Virginia State University to complete a nursing degree.
Above: Clay County High School met together on Bradley Field to honor Roane County High School Senior Alex Miller who lost his life during a football game on Friday, September 13, 2019. Panther students, faculty, and staff, stood in the shape of Miller's number 80 adorning their maroon, black, and silver. Heartache has no boundaries of county lines. He will never be forgotten.